Our Projects
Dorsch gruppe ranks at the top of the league of german are consulting engineers. The Dorsch Gruppe operates in complete independence of manufactures and suppliers within the construction Industry and operates more than 100 countries. The Dorsch Holding GmbH based in Offenbach and Munich is the parent organization of all companies belonging to the Dorsch group. The annual revenue of the Dorsch Gruppe is above Euro 85 million. The company was since 1951. Dorsch Group holds upto 1,500 projects each year. These includes studies, expert opinions and research works as well as development planning and feasibility studies upto project management , preliminary and detailed planning, construction supervision, commissioning, maintenance and staff training. For over five decades the DORSCH GROUP is the engineering partner in various domains. Dorsch is interested in engineering contracts for design, supervision, project management or construction management in the Sultanate of Oman in the following fields:
Project Management
Design Management
Construction Management
Urban Design & Urban infrastructure
Transportation & Intelligent transport systems
Highway, Road, railroad, Metro, Traffic studies
Infrastructure, Sewerage, Master Plan sewer systems etc
Water supply and sanitation up to O&M
Marine and hydraulic engineering
Environmental planning
Airport : airside, landside
Oil and Gas
Currently Dorch in association with Chairman & M.D. of NAS as facilitator through his group is associated with Ministry Of Transport & telecommunication. for Sultanate Prestigious Railway project.
P.T Matic S.P.A specializes in the design, production, installation & maintenance of automatic & self cleaning toilet as for the public area, parks , highways, express highways, domestic roads & Touristic spots. P.T Matic units, designed according to the best made-in-Italy quality. Established in 1983, over the years the company has gained valuable experience along with a focus on technological innovation, design and users' needs, has allowed P.T. Matic to grow rapidly to become a No:1 in its field in Europe and a number of non-European countries. Advantages of the P.T Matic are :
Available in wide range of customizable models
Designed to harmoniously fit into various urban settings
Guarantee maximum hygiene
Safety & comfort for norma & handicapped users.
Creates revenue on each usage
Easy mobility from one place to other
Can rent it out for 3rd party advertisement on both sides
Successfully tested and running in the GCC region
Structurally guaranteed for 10 years
P T Matic has implemented an ISO 9001:2000 quality system.
P T Matic service is provided on the basis of the specifications of ISO 14000 environmental standards.
NAS International LLC In association with the Ministry of Tourism, Oman has signed an agreement to install, operate and maintain(Italian made)PTMatic,Self-cleaning Automatic toilets in Salalah. Self Cleaning Toilets have been successfully installed and operated in the Dhofar Governorate since 2015. These toilets are self-sanitised to be 99.9% bacteria free after each use moreover the technology also cleans the entire toilet surface after each use thusguaranteeing optimum quality hygiene.
Similar Auto-toilet installation projects targeted towards other parts of the Sultanate of Oman are currently in progress.
World Class Consulting is an association established in 2009 in Rome with objective to provide consulting and management services in the public and private sectors. World Class team of experts has conveyed passion, energy and strong know-how in order to provide high-standard in consulting and management services, ICT solutions, education and training, research and development. The professionalism and experience gained have enabled World Class consulting to develop methodologies and tools that are constantly updated and tailored to the needs of customers with a well defined approach for each assignment., World Class Clients provides support on:
Financing projects: from proposal submission to project management
Consulting on company's strategies and innovation
Training based on ICT solutions
Evaluating projects
Currently the team of NAS International and World Class Partner are closely working with the Ministry of Agriculture and Fisheries, Oman towards ensuring a sustainable growth for the local dairy producedwithin the regions of Oman. The Project Phase-1 has been successfully accomplished as we move into the following 4 Phases of this highly prestigious project that will revolutionise the dairy sector of Oman by boosting the local produce while providing sustainable livelihood to the ground level dairy farmers of the Sultanate.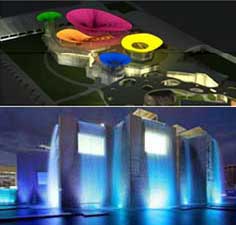 World Class Partner
There is a new understanding of tourism, more and more widespread, that encompasses the idea of leisure for the whole family through access to culture and the observation and enjoyment of nature. The recovery, communication of and high regard for our world heritage, both natural and cultural, are the primary objectives of any planning based on sustainable development.
More and more projects in the world are being based on this point of view. The California Academy of Sciences in San Francisco, the Zaragoza Expo River Aquarium in Spain, the Panama Museum of Biodiversity, the National Aquarium in Costa Rica, the Rio Grande Oceanarium in Brazil, or the network of Spanish National Park Visitor Centres, are clear examples of this new concept of leisure and tourism.
Oceanarium & Aquarium
Knowledge of this heritage, which is so important to Oman both for Arab culture and the world, is today the privilege of the few, and to our understanding, worthy of value and communication. The Pacific and Atlantic oceans already have numerous installations in various countries of the world giving permanent exhibition to their characteristics and biodiversity. However, there is no specialised installation established to communicate the natural marvels and cultural richness of the Indian Ocean. A Museum of the Indian Ocean, of the Sea of Oman, near to Muscat, the country's capital and the terminal for tourist cruises, would be an ideal action to show this heritage. An Aquarium and Oceanarium with a permanent exhibition of coral reefs, tropical fish, big open-sea predators, sharks, turtles and many other underwater species, displayed between atolls, tropical coastlines and deep waters along with reptiles, amphibians, mammals and birds, the species that pertain most to the coastlines and interior jungles the surround the ocean. This new Museum would constitute a centre of culture and leisure for adults, youngsters and children.